Kept saying I'd repaint the nurse cap to go with the white outfit, still hasn't happened. Got as far as stripping the gray paint. I'm not using the nurse Pinky until the repainting is done.
So, I thought dad's surgery failed because he's still stinking up the bathroom. Turns out it needs at least 3 months to heal. (Really? For physically removing the blockage? Shouldn't the effect be immediate?) Anyway, this means there is still hope. I'm glad, but his mental ability is deteriorating fast everyday. Today, (1) he ate 1.5 cheese buns thinking they were "pineapple buns" (Chinese stuff, named after the appearance, no real pineapple is used) and didn't notice the difference in taste at all. And he always says he hates cheese. Sigh... (2) He put orange peel into the main garbage can instead of the one for food waste.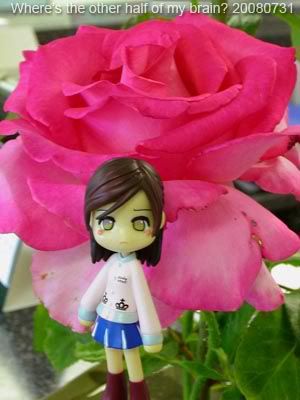 Still can't believe I bought the plane ticket on Monday. It all happened within less than an hour. But I guess it's inevitable since I've already gone crazy from all the stress. I'll seriously kill myself if I don't go away for a while.
First the Japan-HK package is around $2600 which is too expensive. (With other expense, it's gonna be around $3500.) Tickets to HK alone costs $1235. So I thought going to Japan from HK would save a bit. Wrong!!! As I only found out today it costs over HK$7000 which is almost $900! Aaaargh!!! However, the biggest problem is, (1) I can't get those tickets unless with help from a HK friend. It's great that she'd like a trip to Japan too, so I'm happy that we can travel together. (2) The event I want to go to is on the last 3 days in December. The event she wants to go to is on Dec 7. this means we'll have to stay there for at least 27 days! Accommodation is gonna be astronomical!!!! Renting an apartment for a month might be cheaper. But as we're foreigners, chances are really slim.
If only I knew the HK-Japan ticket would be that much, I would have gone for the package in the first place. This, is going to exceed $4000. Aaawoooo what am I gonna do... (T_T)